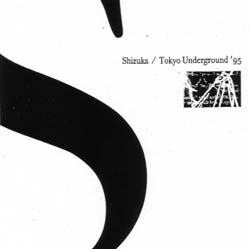 Shizuka
Tokyo Underground '95
Japan's Shizuka were once (and maybe are again) an up-and-coming four-piece Tokyo psych outfit, you might know 'em from their contributions to PSF's Tokyo Flashback compilation series, or their studio album on that same label, or their amazing but now sadly out of print live cd on Persona Non Grata. They even played a great show here in San Francisco at the Kilowatt some years ago that some of us were lucky enough to witness. The prime elements of Shizuka's sound are the Keiji Haino-esque guitar storms of ex-Fushitsusha man Maki, combined with the haunting, sad female vocals of the band's namesake Shizuka (Japanophiles reading this probably also have seen her beautiful and spooky handmade dolls, on the cover of a Land of the Rising Noise comp and elsewhere). This band broke up a while ago, but have apparently recently reunited. No new material has been forthcoming, however, but they have released this live cd-r (recorded in 1995, before the break-up), which will be some consolation to fans. It's a 40-minute long live performance (complete with a fragment of the music being played through the PA prior to their set!) from a club in Tokyo. The recording is great, and their songs are phenomenal. Gorgeous, melancholic stuff, with the gently lulling singing of Shizuka being heartbreaking enough by itself, but also setting the listener up to be destroyed by the fantastic heavy psych controlled-noise outbursts of the guitar when they begin (usually a few minutes into each song). If you're already a Shizuka fan, you'll want this, and if you're into bands like Nagisa Ni Te, Slap Happy Humphrey, and Fushitsusha, you probably do too. Those with less expertise in modern underground Japanese psych -- but who dig the Velvets, Neil Young, or even an imaginary mix of Mazzy Star and Mogwai -- could do a lot worse for an introduction as well.
--Aquarius Records
"This is a recording of a Tokyo concert by Shizuka in 1995. The performance is presented beginning to end, including even the intermission music before their set starts. Recorded after their gorgeous Live Shizuka CD, this disc gives off a slightly different 'in a nightclub' aura to Shizuka's zoned-out balladry, peppered as always by Maki's guitar explosions."
--Eclipse Records